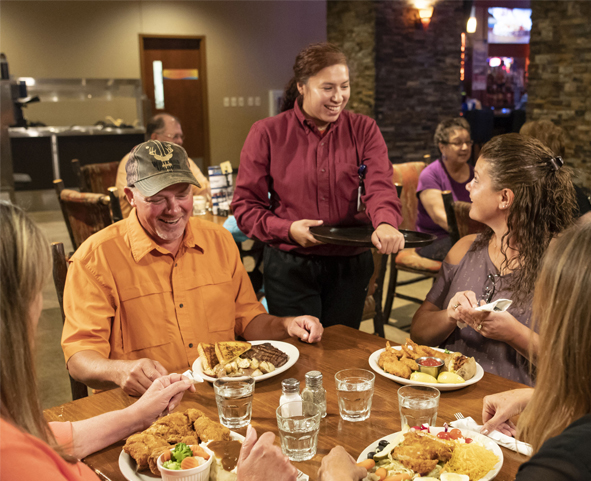 UPSTREAM
Delicious entrees cooked just for you!
The Upstream at Blackbird Bend can handle any hunger you bring to the table. Dining at the Upstream is a special experience. Settle into the seats in our all-new restaurant while our chefs prepare dishes you're sure to love. You'll love our prices, too!
CURRENT DINING ROOM HOURS
SUNDAY 11:00 AM – 2:00 PM BRUNCH BUFFET or MENU
WEDNESDAY 11:00 AM – 2:00 PM LUNCH BUFFET or MENU
FRIDAY 5:00 PM – 8:00 PM DINNER BUFFET or MENU
SATURDAY 5:00 PM – 8:00 PM DINNER BUFFET OR MENU
TUESDAY LUNCH BUFFET
Join us for our new lunch buffet on Tuesdays from 11:00am to 2:00pm!  Salisbury steak, broasted chicken, liver & onions, mashed potatoes, gravy, mac & cheese, carrots, our salad bar and dessert is just $7.99 per person.
WEDNESDAY LUNCH BUFFET
Broasted chicken, roast beef, mashed potatoes & gravy, celery, carrots and onions, Texas toast or dinner rolls.   $6.99   Serving from 11:00 AM to 2:00 PM
FRIDAY NIGHT BUFFET
Feast on whole fried catfish, smothered pork chops, broasted chicken, mashed potatoes, waffle fries, rice pilaf, mac & cheese, California blend vegetables, clam chowder, and our salad bar.  $14.99. Serving from 5:00  to 8:00 PM
SATURDAY NIGHT BUFFET
Enjoy sirloin steak, jumbo shrimp, our famous broasted chicken, baked potatoes, sautéed onions & mushrooms, au jus & California blend vegetables  $17.99.  Serving from 5:00  to 8:00 PM
SUNDAY BRUNCH BUFFET
Join us for chicken fried steak, broasted chicken, scrambled eggs, seasoned diced potatoes, bacon, biscuits & gravy, waffles & syrup.   $13.99