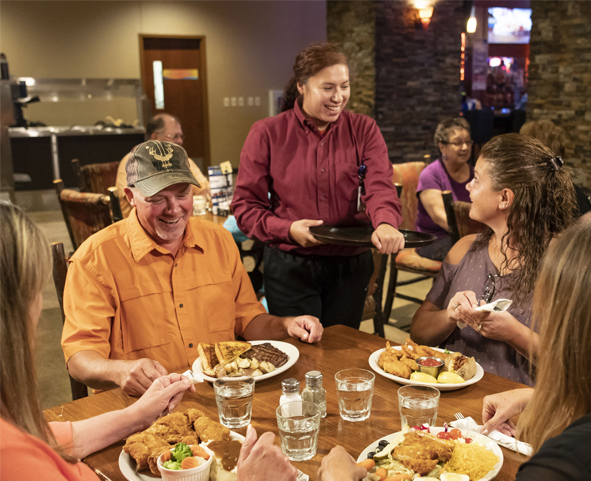 UPSTREAM CAFE
Delicious entrees cooked just for you. A sumptuous buffet table with Midwest favorites. Or, maybe just a casual bite.
The Upsteam Cafe at Blackbird Bend can handle any hunger you bring to the table. Dining at the Upstream Cafe is a special experience. Settle into the seats in our all-new restaurant while our chefs prepare dishes you're sure to love. You'll love our prices, too!
NEW YEAR'S EVE BUFFET
Our dinner buffet from 4:00pm to 10:00pm will feature all-you-can-eat crab legs, butterfly shrimp, broasted chicken, kielbasa & peppers, seasoned baby reds, corn on the cob, clam chowder and more—plus our salad and dessert bars—for just $24.99 per person.  Get a $5.00 discount per person when you show us your Club Blackbird card.
Lunch Buffet – $9.99
featuring: Meatloaf
Dinner Buffet – $9.99
featuring: Meatloaf
Lunch Buffet – $9.99
featuring: Pork Chops
Dinner Buffet – $9.99
featuring: Pork Chops
Lunch Buffet – $11.99
featuring: Whole Fried Catfish
Dinner Buffet – $11.99
featuring: Whole Fried Catfish
Lunch Buffet – $9.99
featuring: Chicken Fried Steak
Dinner – $9.99
featuring: Chicken Fried Steak
Lunch Buffet – $11.99
featuring: bbq ribs
Dinner Buffet – $12.99
featuring: Jumbo Fried Shrimp, Clam Chowder and Steak
Brunch Buffet – $9.99
featuring: pot roast
Dinner Buffet – $15.99
featuring: Prime Rib, Pasta, Mushrooms and Onions and a Baked Potato Station
Brunch Buffet – $9.99
featuring: Scrambled eggs, bacon or sausage, hashbrowns, biscuits & Gravy, and much more
Dinner Buffet - $8.99
featuring: Roasted Ham