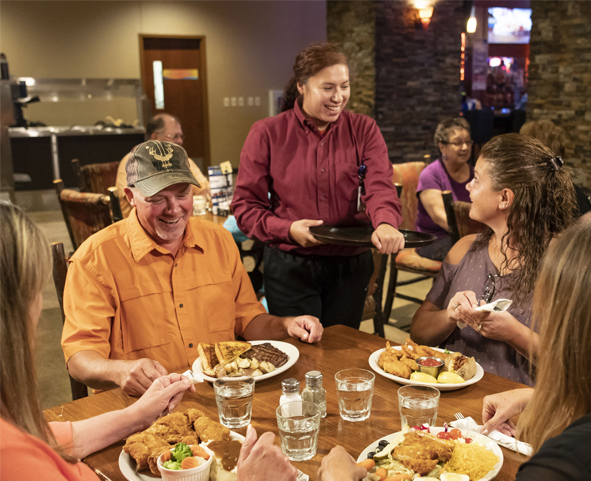 UPSTREAM CAFE
Delicious entrees cooked just for you. A sumptuous buffet table with Midwest favorites. Or, maybe just a casual bite.
The Upsteam Cafe at Blackbird Bend can handle any hunger you bring to the table. Dining at the Upstream Cafe is a special experience. Settle into the seats in our all-new restaurant while our chefs prepare dishes you're sure to love. You'll love our prices, too!
FATHER'S DAY:
Enjoy steak, broasted chicken, scrambled eggs, a waffle bar, broasted jacket fries, sautéed onions and peppers, bacon rice, green bean casserole, chili and more—plus our salad and dessert bars—for just $14.99 per person for adults and $7.99 for kids age 10 and younger.   Serving from 10:00am to 3:00pm.
Lunch Buffet – $9.99
featuring: meatloaf
Dinner – Order from our great menu
Lunch Buffet – $9.99
featuring: salisbury steak
Dinner Buffet – $11.99
featuring: fried catfish and catfish nuggets
Lunch Buffet – $11.99
featuring: fried catfish and liver and onions
Dinner – Order from our great menu
Lunch Buffet – $9.99
featuring: chicken fried steak
Dinner – Order from our great menu
Lunch Buffet – $9.99
featuring: bbq ribs
Dinner Buffet – $12.99
featuring: jumbo fried shrimp and clam chowder
Breakfast – order off our menu
Lunch Buffet – $9.99
featuring: pot roast
Dinner Buffet – $15.99
featuring: prime rib, pasta, mushrooms and onions and a baked potato station
Brunch Buffet – $9.99
featuring: Scrambled eggs, bacon or sausage, hashbrowns, biscuits & Gravy, and much more
Dinner – Order from our great menu