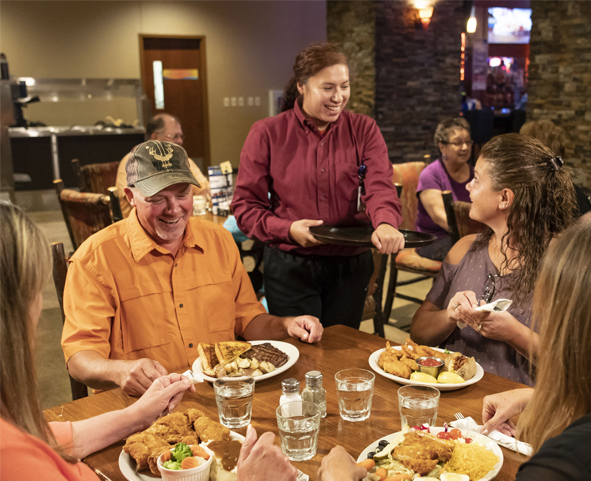 UPSTREAM CAFE
Delicious entrees cooked just for you. A sumptuous buffet table with Midwest favorites. Or, maybe just a casual bite.
The Upsteam Cafe at Blackbird Bend can handle any hunger you bring to the table. Dining at the Upstream Cafe is a special experience. Settle into the seats in our all-new restaurant while our chefs prepare dishes you're sure to love. You'll love our prices, too!
THANKSGIVING BUFFET
Feast on roasted turkey, broasted chicken, mashed potatoes, turkey gravy, stuffing, bacon mac & cheese, green bean casserole, maple glazed carrots, and turkey chili—plus our salad and dessert bars—for just $12.99 for adults, and $6.99 for children 12 and under.
Lunch Buffet – $9.99
featuring: Meatloaf
Dinner Buffet – $9.99
featuring: Meatloaf
Lunch Buffet – $9.99
featuring: Pork Chops
Dinner Buffet – $9.99
featuring: Pork Chops
Lunch Buffet – $11.99
featuring: Whole Fried Catfish
Dinner Buffet – $11.99
featuring: Whole Fried Catfish
Lunch Buffet – $9.99
featuring: Chicken Fried Steak
Dinner – $9.99
featuring: Chicken Fried Steak
Lunch Buffet – $11.99
featuring: bbq ribs
Dinner Buffet – $12.99
featuring: Jumbo Fried Shrimp, Clam Chowder and Steak
Brunch Buffet – $9.99
featuring: pot roast
Dinner Buffet – $15.99
featuring: Prime Rib, Pasta, Mushrooms and Onions and a Baked Potato Station
Brunch Buffet – $9.99
featuring: Scrambled eggs, bacon or sausage, hashbrowns, biscuits & Gravy, and much more
Dinner Buffet - $8.99
featuring: Roasted Ham